With our time no doubt being spent at home more than ever in 2021, there's never been a better time to get our gardens looking lovely all year round. For many, that means a low maintenance garden that is easy to look after, ideal for those who are new to gardening or don't have much time to maintain them. 'Easy' gardens are also ideal for holiday homes or rented properties.
If you are looking for a garden that looks smart but with little time spent working on it and more time spent enjoying it, read on for our top tips for a low maintenance garden.
Think about your planting scheme
If you would like to add some colour with plants, choose a small number of varieties to make upkeep a little easier – you can then prune or deadhead together, all in one go. Group them in areas of your garden to make watering easier in the hot summer months, and in doing so you will also create less areas for weeding. Think easy-care shrubs such as hydrangeas or spirea, and perennials such as geranium, lavender, ornamental grasses and dahlias.
Keep your flooring simple
Millboard decking the perfect option for a low maintenance garden, being moulded from real oak it looks so natural yet is highly slip, rot and split resistant. It also perfectly complements any type of property, from Cotswold manors to small London courtyards.
Whilst lawns are notorious for being hard work, a square or rectangular shaped lawn is far easier to care for than some elaborate shapes. If you have a large garden, consider keeping an area in a meadow style and let the blades in some areas grow long, whilst keeping a smaller area nicely cut. This option is also great for wildlife, and you could even add some wildflower seeds – they are simple to sow and provide a low maintenance pop of colour that insects and birds also enjoy.
Another solution is artificial lawn – there are now plenty of options that look like the real thing, all without the stresses of keeping it alive and healthy.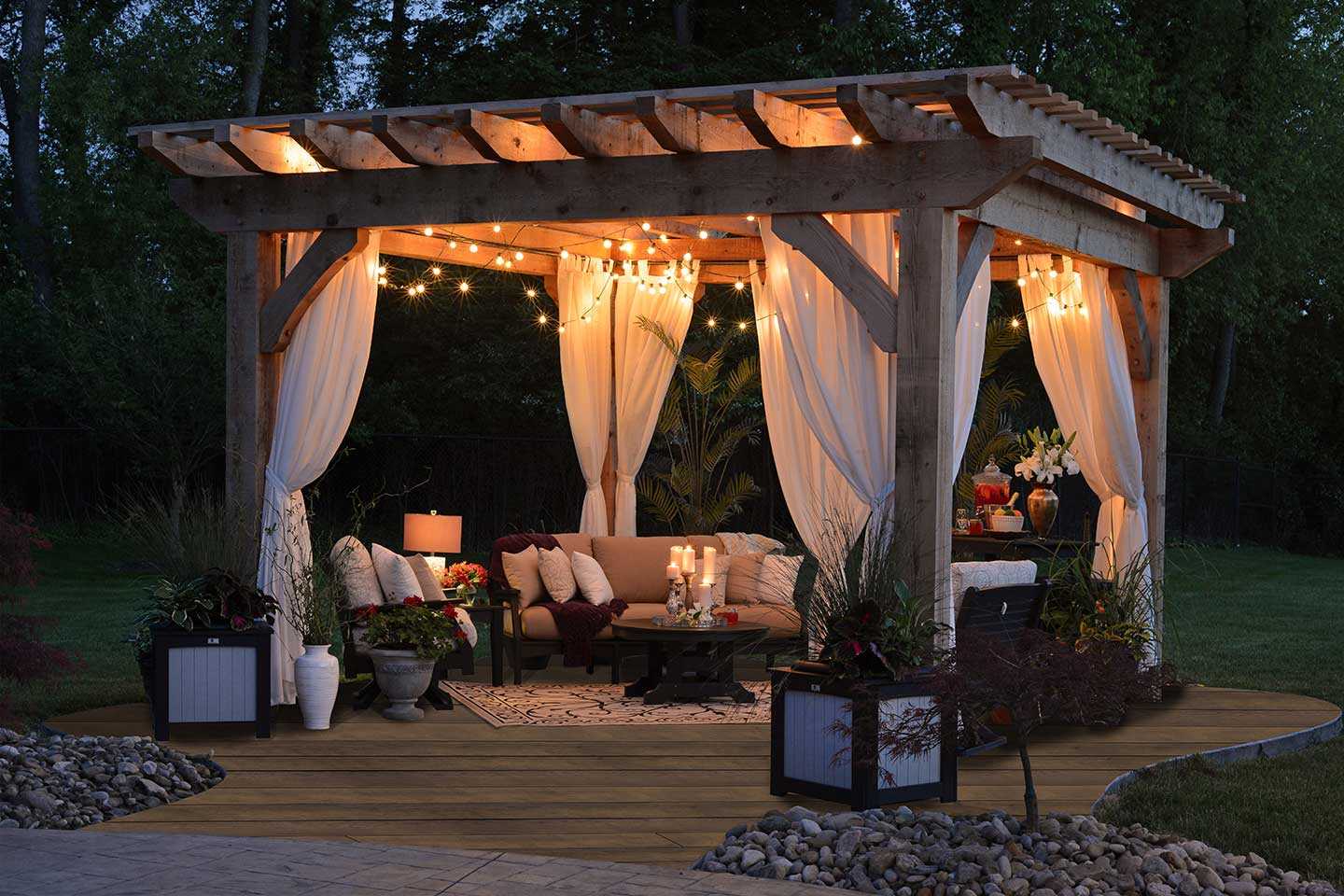 Keep your equipment to hand
Your garden is an extra room in your home – so having all your equipment to hand makes keeping on top of the garden a little easier. Think about some smart storage containers to store all your essentials, and get your shed organised to have all your bits and pieces to hand. Think shelving, hooks, and repurposing old food containers to house all your odds and ends in your shed.
Create a centrepiece
The main attraction in your garden doesn't have to be a high maintenance water feature or fancy ornamental topiary. A large seating area atop your low maintenance decking provides a fantastic focal point that's practical too. All-weather rattan is a good option – dining sets, corner sofas or day beds are a simple way to create a pleasant focal point. Accessorise with brightly coloured garden rugs, pouffes and blankets for the cooler evenings.
For extra wow factor, Grillo outdoor kitchens are an amazing addition for those who enjoy socialising in the garden. The Chefs Anvil, a heavy gauge steel cooking ring over a fire bowl is the perfect for a garden party – think interactive cooking of everything from skewers and meats to fajitas, fries and fondue – the list is endless. Grillo also offer a complete turnkey outdoor kitchen solution, that are low maintenance and simple in construction. Perfect for dining al fresco.